MARCO PARISOTTO • biography
Born in Montreal of Italian lineage, Marco Parisotto is among Canada's foremost conductors on the international scene. A guest with orchestras around the globe, with unrelentingly high standards of performance, he continues to thrill audiences with his passionate music making. He is the winner of seven major international competitions and crowned these achievements at the1997 "Besançon International Competition for Conductors", being awarded both the Grand Prix as well as the Prix du Public - a historical first at this elite event.

As Artistic Director of the Ontario Philharmonic (OP), a title he has held for over two decades, he has earned praise for the orchestra's development and adventurous performances, and he is credited with building OP to the high standard it enjoys today. Under his leadership, Ontario Philharmonic has received superlative audience and media recognition.

"…a fantastic orchestra [Ontario Philharmonic] being led by a first-rate conductor" • Musical Toronto.

Marco Parisotto's close association with orchestras is manifested through the strong relationships he has maintained with ensembles under his leadership. In 2013, he was unanimously elected as Music Director of the Jalisco Philharmonic, transforming this ensemble into one of Latin America's most distinguished orchestras. Under his direction, the Jalisco Philharmonic garnered international attention with its virtuosic performances and participated in recordings, tours, international festivals and major events such as Operalia, The World Opera Competition. During his tenure, the orchestra undertook major concert tours eliciting great critical and public acclaim as they visited Germany, Austria, the USA and Mexico in leading concert halls of Berlin, Munich, Essen, Vienna, Los Angeles, San Francisco, Busan and Mexico City. As well, through Maestro Parisotto, the orchestra completed significant commercial recording projects, starting with the Philharmonic's first release under the SONY Classical label.

"Amidst this exciting pillar of sound growing constantly, stands Marco Parisotto. Under his control, directing the orchestra with the greatest finesse, like an architect he gives precise instructions that develop into a majestic edifice of sound…  He ingeniously manages the full spectrum of colors of his orchestra… We hope that this fantastic orchestra with this dynamic conductor will visit our German concert halls more frequently, bringing with them their style of spicy and fiery music-making." • Klassik Begeistert, Raphael Eckardt

Following a special concert celebrating Canada-China relations in 1999 at the Grand Theatre in Shanghai, Marco Parisotto was appointed Principal Conductor and Artistic Advisor of the Shanghai Symphony Orchestra, a position he held until 2003.

Marco Parisotto has won critical and public praise for his interpretations of the great Austro-German repertoire - as R. Strauss, Bruckner, Wagner, and as an avid Mahlerian. He has also been acclaimed for his readings of Russian masters as Tchaikovsky, Shostakovich, Stravinsky, and for his passionate performances in the operatic field. He has led productions including, among others, Pagliacci, Cavalleria Rusticana, Carmen, Otello, Madama Butterfly, Tosca, La Boheme, Aida, Rigoletto, Don Giovanni and Turandot.

"The star of the evening was without a doubt Marco Parisotto…inspired, passionate and in a virtual state of grace, impressing a supreme flow and agility to this extremely challenging opera [Puccini's Turandot]." • Opera World.

Marco Parisotto has appeared in major concert halls throughout the world, conducting many leading orchestras including the Orchestre symphonique de Montréal, Philharmonia Orchestra of London, Orchestra Sinfonica di Milano "La Verdi", Orchestra Haydn di Bolzano, New Jersey Symphony, Toronto Symphony, Calgary Philharmonic, Edmonton Symphony, Vancouver Symphony, National Arts Center Orchestra in Ottawa, Orchestre symphonique de Québec, Orquesta Filarmónica de Bogotá, Busan Philharmonic, Osaka Philharmonic, Tokyo Symphony, Tokyo Philharmonic, Seoul Philharmonic, Louisiana Philharmonic, Erfurt Philharmonic, Belgrade Philharmonic, Georges Enescu Philharmonic, Janacek Philharmonic, Orchestre National de France, Orchestre National du Capitole de Toulouse, Opéra de Bordeaux, Opéra de Marseille, Orchestre Philharmonique de Strasbourg and Philharmonique de Liège. He was received with great enthusiasm at the international Festivals of Evian, Menton, Besançon, Festival Cervantino, Wieniawski International Festival (Poland), May Festival of Guadalajara, Festival of Opera in Jalisco, Skaneateles Festival New York, Busan Maru International Music Festival and Bolzano Festival; at the Montreal Opera, Shanghai Opera, Opera Giuseppe Verdi di Trieste, Serbian National Theatre; in Mexico with the Mexico City Philharmonic, Orquesta Filarmonica de la UNAM, Orquesta Sinfonica Sinaloa de las Artes, Orquesta Sinfonica de UANL, Camerata de Coahuila, Sinfonica Carlos Chavez, Camara de Bellas Artes, Orquesta de Baja California; in China with the Shanghai Symphony, China National Symphony and Gui Yang Symphony. He has also led to acclaim the Polish National Radio Symphony, Monte-Carlo Philharmonic, Orchestra Nazionale della RAI of Torino, Orquesta de Cordoba, Orchestre de Bayonne Côte-Basque. On several occasions, at Théâtre des Champs Élysées in Paris, he was a guest of Orchestre des Concerts Lamoureux.  

Marco Parisotto is the winner of seven important international competitions. Aside from his noteworthy awards at the prestigious Besançon Competition, joining the ranks of maestros like Seiji Ozawa and Michel Plasson, other top prizes have included the Tokyo International Conductors' Competition in Japan, Constantin Silvestri Competition in Romania and the Antonio Pedrotti in Italy. He was moreover honored with all other special awards at these events.  

He took his training both as a violinist and pianist and studied conducting with eminent maestros including Leonard Bernstein, Carlo Maria Giulini, Leonard Slatkin, Charles Brück, Yuri Temirkanov, Georg Tintner and, initially, with Raffi Armenian at the Conservatoire de Musique du Québec in Montreal.
‍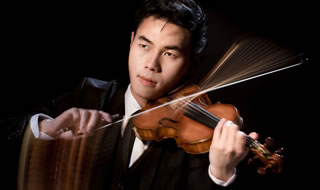 TIMOTHY CHOOI • biography
Powerful and finely nuanced interpretations, sumptuous sonorities, and a compelling stage presence are just a few of the hallmarks of internationally acclaimed violinist Timothy Chooi. A popular soloist and recitalist, he is sought after as much for his passionate performances as for his wide-ranging repertoire. Recent honors include Second Prize, Belgium's world-renowned 2019 Queen Elisabeth Competition, First Prize, the 2018 Joseph Joachim International Violin Competition in Germany, and the First Prize, the 2018 Schadt Violin Competition in the USA. Recently he was the recipient of one of Europe's most coveted prize, "Prix Paternot" which recognizes a promising and accomplished international artist at the prestigious Verbier Festival in Switzerland.

Future engagements include returns to the Verbier Festival in Switzerland, l'Orchestre Symphonique de Montréal, the Belgian National Orchestra, Wiener Concert-Verein as well as his debuts with the Chicago Symphony Orchestra, Royal Liverpool Philharmonic Orchestra, Deutsches Sinfonieorchester Berlinwith Jukka-Pekka Saraste and l'Orchestre Symphonique de Québec with Bramwell Tovey.

Chooi's most recent artistic collaboration was a tour with Anne-Sophie Mutter and the Mutter Virtuosi where they performed across Europe's most notable concert halls such as the Musikverein in Vienna, Théâtre des Champs-Elysées in Paris, and the Berlin Philharmonie. Recent performances include engagement with Luxembourg Chamber Orchestra, Toronto Symphony Orchestra with Peter Oundjian and a live on-air recital on New York City's WQXR classical radio station; and recital tours across Europe, North America and Asia. In addition, Chooi has also collaborated with Brussels Philharmonic under Stéphane Denève, with Santa Barbara Symphony, Orchestre Philharmonique de Liége, Auckland Philharmonia Orchestra, and the Malaysian Philharmonic Orchestra.

In addition to his awards, Timothy Chooi's numerous honors include the third prize at the 2015 Michael Hill Violin Competition in New Zealand and Grand Prize at the 2010 Montreal Symphony Manulife Competition in Canada. He was a laureate at the 2014 Menuhin International Competition and the recipient of the Vadim Repin Scholarship Award in New York City.

In addition to his performing career is a founding member of The VISION Collective, a three-year-old ensemble of musicians and composers that utilizes music to highlight refugee and immigrant voices and stories, raising awareness for the global refugee crisis, and brings together individuals from all walks of life together to create diverse and meaningful art. This ensemble was the recipient of the 2020 Harold W. McGraw Family Foundation's The Robert Sherman Award for Music Education and Community Outreach.Chooi studied at the Juilliard School under the tutelage of Catherine Cho. His mentors include Anne-Sophie Mutter, Pinchas Zukerman, Patinka Kopec, Ida Kavafian, and Pamela Frank. He recently graduated from Juilliard's prestigious Artist Diploma program and the Professional Studies program at the Kronberg Academy with Christian Tetzlaff.

An avid educator with a passion for sharing his international experience with young musicians, Timothy Chooi is the Professor of Violin at the University of Ottawa. He performs on the 1717 Windsor-Weinstein Stradivarius on a generous loan from the Canada Council for the Arts and the 1709 "Engleman" Stradivarius on loan from the Nippon Music Foundation in Japan.


ALEXANDER DOBSON • biography
British-Canadian baritone Alexander Dobson has been praised for his musical and dramatic artistry on both opera and concert stages.  He was lauded for his "gripping embodiment of Wozzeck" (Journal Voir) in a production of the Berg opera with Théâtre du Nouveau Monde and Orchestre Métropolitain, conducted by Yannick Nézet-Séguin. Other roles of note include the title role in Don Giovanni, the Count/Le Nozze di Figaro and Thomas Betterton/Prince of Players, all with Florentine Opera, and Guglielmo/Così Fan Tutte, Belcoré /L'elisir d'amore and Ned Keene/Peter Grimes, all with L'Opéra de Montréal.

Acclaimed for his accomplished blend of stagecraft and vocal ability, Mr. Dobson is particularly in demand for contemporary stagings. His recent performance as "The Master" in Coleman Lemieux & Compagnie's production of Against Nature was praised for its "clarity and sustained feeling" (The Globe and Mail ) November 2021 will see Dobson return to Citadel for the premiere of The Machine Stops with Coleman Lemieux & Compagnie, the final project in a trilogy directed by James Kudelka and composed by John Gzowski). Dobson was also acclaimed as "The Pilot" in Soundstreams' production of Airline Icarus, a new opera by Brian Current. The recording of Airline Icarus was the winner of the JUNO for Classical Composition of the Year in 2015. The recording of Carlisle Floyd's Prince of Players, with Florentine Opera and the Milwaukee Symphony, was released in April 2020 on the Reference Recordings label and received two GRAMMY(r) nominations. Alexander made his London debut at the Linbury Theatre with Royal Opera House Covent Garden in the premiere of The Midnight Court by Ana Sokolovic. He also was acclaimed for his appearances in a staged performance of Zemlinsky's Lyric Symphony directed by Atom Egoyan at Spoleto Festival USA, and as King Karl in Schubert's Fierrabras with Toronto's VOICEBOX: Opera in Concert.

Other opera engagements include Raimbaud/Le Comte Ory for Edmonton Opera, Maximilian/Candide with Calgary Opera; "Guillaume" in the French version of Così fan tutte with Opera Lafayette; Count Almaviva/The Marriage of Figaro with Against the Grain; Marcello/La Bohème with Saskatoon Opera, Pacific Opera Victoria, and on television in BRAVO's Street Scenes version of the work; Silvio/Pagliacci for L'Opéra de Québec; Mercutio/Roméo et Juliette for L'Opera de Montréal and also for Opera Ontario; Harlequin/Ariadne auf Naxos for Calgary Opera,  Sonora/Lafanciulla del West with L'Opéra de Montréal; and Aeneas/Dido and Aeneas with The Theatre of Early Music. He has sung Escamillo/Carmen in concert with the Kitchener-Waterloo Symphony,

Concert performances of note include Walton's Belshazzar's Feast with Toronto Symphony and Sir Andrew Davis, Mahler's Songs of a Wayfayer with Orchestre Métropolitain, Faure Requiem with the Windsor Symphony, and Mahler's Symphony No. 8 with Yannick Nézet-Séguin conducting the combined National Arts Centre Orchestra and Orchestre Métropolitain. He has sung Mozart's Requiem with the Milwaukee Symphony and San Antonio Symphony; Haydn's Seasons with Cleveland Orchestra; and Mozart's Mass in C Minor with the St. Lawrence Choir, Toronto's Aldeburgh Connection, the Vancouver New Music Festival, and with Montréal's Theatre of Early Music. Alexander has sung Handel's Messiah with Philadelphia Orchestra (Cristian Macelaru, conductor), Calgary Philharmonic (Nicholas McGegan), Kansas City Symphony (Julian Wachner) Orchestra London, National Arts Centre Orchestra (Paul Goodwin), St. Thomas Church in New York, Edmonton Symphony, Grand Philharmonic Choir, Elmer Isler Singers, Boris Brott Festival, and Spiritus Chamber Choir, Brahms Requiem with Pacific Chorale, and Bach's St. John Passion with Bach Society of St. Louis. Among his many Canadian engagements this past season were Bruckner's Te Deum and Beethoven's Symphony No.9 with the Hamilton Philharmonic. Abroad, he performs in Stravinsky's Pulcinella with the Warsaw Philharmonic, a piece he previously performed with the Naples Philharrmonic.

Mr. Dobson is also a dedicated recital artist. Composer Derek Holman wrote the song cycle Daybreak and a Candle End especially for Alexander and the Talisker Players. Mr. Dobson has also performed Dichterliebe with Talisker Players Chamber Music and Coleman Lemieux Dance Company, and Schubert's Winterreise to great acclaim in Montréal, Victoria, England, Paris, and, with Yannick Nézet-Séguin at the piano, in Toronto. Alexander has also been heard frequently on CBC Radio Canadian recital and concert.

Alexander graduated from the University of Toronto Opera Division and the Faculty of Music at the University of Western Ontario with Honours.  He is also an alumnus of the Music Theatre Program at the Banff Centre, Music Academy of the West in Santa Barbara, the Steans Institute for Young Artists at Ravinia, and L'Atelier Lyrique de L'Opéra de Montréal.  Alexander is the recipient of numerous awards and prizes including those from the International Voice Competition of Paris (including the Edward Marshall Association Award for Outstanding Baritone), the Jeunesses Musicales National Competition, the Marilyn Horne Competition (Music Academy of the West), and the Jacqueline Desmarais Competition.

An ardent singer since childhood, Alexander's solo début was at twelve years old, as a treble soloist in the Canadian premiere of Lloyd Webber's Requiem under conductor Elmer Isler.
‍