ALJOŠA JURINIĆ • biography
Hailed as "a startlingly subtle and visionary pianist" with "a rare blend of charm and mastery", Aljoša Jurinić has established himself on the international stage at the world's preeminent piano competitions. Best known for winning the 2012 International Robert Schumann Competition in the composer's hometown of Zwickau, he was also a laureate at the 2016 Queen Elisabeth Piano Competition and the 2018 Leeds International Piano Competition, as well as a finalist at the 2015 International Fryderyk Chopin Piano Competition. In 2019, the president of Croatia awarded him the Order of the Morning Star for out standing achievements in culture and the international promotion of his country. 

Aljoša Jurinićh as appeared as a soloist and with orchestras at prominent venues, such as the Carnegie Hall, Wiener Musikverein, Salle Cortot (Paris), Gasteig (Munich),Tokyo Opera City Concert Hall, Osaka Symphony Hall, La Sala Verdi (Milan), BOZAR (Brussels), Lisinski Concert Hall (Zagreb), and Kolarac (Belgrade), as well as important festivals, including Serate Musicali (Milan), Chopin and His Europe (Warsaw), Chopin Festival (Nohant), From Easter to the Ascension(Tbilisi),  Kyiv Summer Music Evenings, Chopin Festival (Mariánské Lázně), International Keyboard Institute Festival (New York), Dubrovnik Summer Festival, Split Summer Festival, and others. During2018, he gave a series of concerts in China and the next year concert tours in both China and Japan. 

His orchestral performances include collaborations with the Warsaw Philharmonic, Berlin Radio Symphony Orchestra,  Hallé Orchestra, National Orchestra of Belgium, Royal Flemish Philharmonic Orchestra, Orchestre Royal de Chambre de Wallonie, Plauen-Zwickau Philharmonic, Brno Philharmonic Orchestra, Zagreb Philharmonic Orchestra, Sarajevo Philharmonic Orchestra, Kosovo Philharmonic, and Symphony Orchestra of the Serbian Broadcasting Corporation, under the batons of esteemed conductors such as Marin Alsop, Jacek Kaspszyk, Ivan Repušić, Thierry Fischer, Edward Gardner, Bojan Suđić, Paul Meyer, Daniel Smith, and Leoš Svárovský. 

A keen chamber musician, Aljoša Jurinić performs in duos with the world-renowned musicians Petrit Çeku (guitar) and Luka Šulić (cello), the latter collaboration earning the prestigious Orlando Award at the 70th Dubrovnik Summer Festival. His discography includes a solo album, Chopin Alive, recorded at an all-Chopin recital published under Cristoforium Art, a CD box set of highlights from the 2016 Queen Elisabeth Competition, and his performance of R. Schumann's Piano Concerto in A minor, Op. 54, at the 2012 Robert Schumann Competition. In 2020,he released an album under KNS Classical featuring live performances of R. Schumann's Fantasy, Op. 17, and F. Chopin's 12 Etudes, Op. 25. 

Aljoša Jurinić holds a Concert Diploma (Konzertexamen) from the University of Music Franz Liszt Weimar, where he studied under Grigory Gruzman, and a Master's Degree from the Academy of Music of the University of Zagreb, where he studied under Ruben Dalibaltayan. Other teachers who have contributed to his artistic development include Eliso Virsaladze, Noel Flores, and Jasna Reba.
MARCO PARISOTTO • biography
Bornin Montreal of Italian lineage, Marco Parisotto is among Canada's foremost conductors on the international scene. A guest with orchestras around the globe, with unrelentingly high standards of performance, he continues to thrill audiences with his passionate musicmaking. He is the winner of seven major international competitions and crowned these achievements at the1997 "Besançon International Competition for Conductors", being awarded both the Grand Prix as well as the Prix du Public - a historical first at this elite event.

As Artistic Director of the Ontario Philharmonic (OP), a title he has held for over two decades, he has earned praise for the orchestra's development and adventurous performances, and he is credited with building OP to the high standard it enjoys today. Under his leadership, Ontario Philharmonic has received superlative audience and media recognition.

"…a fantastic orchestra [Ontario Philharmonic] being led by a first-rate conductor" • Musical Toronto.

Marco Parisotto's close association with orchestras is manifested through the strong relationships he has maintained with ensembles under his leadership. In 2013,he was unanimously elected as Music Director of the Jalisco Philharmonic, transforming this ensemble into one of Latin America's most distinguished orchestras. Under his direction, the Jalisco Philharmonic garnered international attention with its virtuosic performances and participated in recordings, tours, international festivals and major events such as Operalia, The World Opera Competition. During his tenure, the orchestra undertook major concert tours eliciting great critical and public acclaim as they visited Germany, Austria, the USA and Mexico in leading concert halls of Berlin, Munich, Essen, Vienna, Los Angeles, San Francisco, Busan and Mexico City. As well, through Maestro Parisotto, the orchestra completed significant commercial recording projects, starting with the Philharmonic's first release under the SONY Classical label.

"Amidst this exciting pillar of sound growing constantly, stands Marco Parisotto. Under his control, directing the orchestra with the greatest finesse, like an architect he gives precise instructions that develop into a majestic edifice of sound…  He ingeniously manages the full spectrum of colors of his orchestra… We hope that this fantastic orchestra with this dynamic conductor will visit our German concert halls more frequently, bringing with them their style of spicy and fiery music-making." •Klassik Begeistert, Raphael Eckardt

Following a special concert celebrating Canada-China relations in 1999 at the Grand Theatre in Shanghai, Marco Parisotto was appointed Principal Conductor and Artistic Advisor of the Shanghai Symphony Orchestra, a position he held until2003.

Marco Parisotto has won critical and public praise for his interpretations of the great Austro-German repertoire - as R. Strauss, Bruckner, Wagner, and as an avid Mahlerian. He has also been acclaimed for his readings of Russian masters as Tchaikovsky, Shostakovich, Stravinsky, and for his passionate performances in the operatic field. He has led productions including, among others, Pagliacci, Cavalleria Rusticana, Carmen, Otello, Madama Butterfly, Tosca, La Boheme, Aida, Rigoletto, Don Giovanni and Turandot.

"The star of the evening was without a doubt Marco Parisotto…inspired, passionate and in a virtual state of grace, impressing a supreme flow and agility to this extremely challenging opera [Puccini's Turandot]." •Opera World.

Marco Parisotto has appeared in major concert halls throughout the world, conducting many leading orchestras including the Orchestre symphonique de Montréal, Philharmonia Orchestra of London, Orchestra Sinfonica di Milano "La Verdi", Orchestra Haydn di Bolzano, New Jersey Symphony, Toronto Symphony, Calgary Philharmonic, Edmonton Symphony, Vancouver Symphony, National Arts Center Orchestra in Ottawa, Orchestre symphonique de Québec, Orquesta Filarmónica de Bogotá, Busan Philharmonic, Osaka Philharmonic, Tokyo Symphony, Tokyo Philharmonic, Seoul Philharmonic, Louisiana Philharmonic, Erfurt Philharmonic, Belgrade Philharmonic, Georges Enescu Philharmonic, Janacek Philharmonic, Orchestre National de France, Orchestre National du Capitole deToulouse, Opéra de Bordeaux, Opéra de Marseille, Orchestre Philharmonique de Strasbourg and Philharmonique de Liège. He was received with great enthusiasm at the international Festivals of Evian, Menton, Besançon, Festival Cervantino, Wieniawski International Festival (Poland), May Festival of Guadalajara, Festival of Opera in Jalisco, Skaneateles Festival New York, Busan Maru International Music Festival and Bolzano Festival; at the Montreal Opera, Shanghai Opera, Opera Giuseppe Verdi di Trieste, Serbian National Theatre; in Mexico with the Mexico City Philharmonic, Orquesta Filarmonica de la UNAM, Orquesta Sinfonica Sinaloa de las Artes, Orquesta Sinfonica de UANL, Camerata de Coahuila, Sinfonica Carlos Chavez, Camara de Bellas Artes, Orquesta de Baja California; in China with the Shanghai Symphony, China National Symphony and Gui Yang Symphony. He has also led to acclaim the Polish National Radio Symphony, Monte-Carlo Philharmonic, Orchestra Nazionale della RAI of Torino, Orquesta de Cordoba, Orchestre de Bayonne Côte-Basque. On several occasions, at Théâtre des Champs Élysées in Paris, he was a guest of Orchestre des Concerts Lamoureux.  

Marco Parisotto is the winner of seven important international competitions. Aside from his noteworthy awards at the prestigious Besançon Competition, joining the ranks of maestros like Seiji Ozawa and Michel Plasson, other top prizes have included the Tokyo International Conductors' Competition in Japan, Constantin Silvestri Competition in Romania and the Antonio Pedrotti in Italy. He was moreover honored with all other special awards at these events.  

He took his training both as a violinist and pianist and studied conducting with eminent maestros including Leonard Bernstein. Carlo Maria Giulini, Leonard Slatkin, Charles Brück, Yuri Temirkanov, Georg Tintner and, initially, with Raffi Armenian at the Conservatoire de Musique du Québec in Montreal.
‍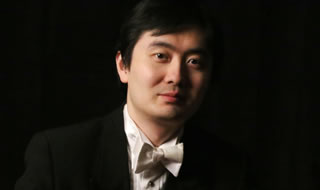 SHENG CAI • biography
Recently described as "having the inner passion paired with Rubinstein's nonchalance" by Thüringer Allgemeine in Germany, Canadian pianist Sheng Cai has embraced the keyboard tradition which epitomizes the greatness of the romantic virtuoso. His performances of major keyboard works of the past centuries have touched audiences and won the praise of critics on four continents. The Toronto Star headlined "This is a young man with real talent... from a clear, singing tone to a subtle sense of rubato to a judicious choice of tempi " and described as a pianist " with great confidence... gave more lucidity, color and power" by the Birmingham News. Sheng Cai has been honoured with a number of prizes and awards and continues to push the boundaries in interpreting both the established and rarities of the piano literature.

Since his debut with the Toronto Symphony Orchestra at just fifteen years old, Sheng Cai has performed a broad spectrum of concerto repertoire from Mozart to 21st century composers with invitations to dozens of orchestras worldwide as guest soloist. Recent concerto performances include invitations to perform with the Toronto Symphony, Quebec Symphony, Calgary Philharmonic, Windsor Symphony, Canton Symphony of Ohio, Fort Collins Symphony, New Bedford Symphony, Irving Symphony of Texas,  and with Shanghai Symphony, Shenzhen Symphony as well as with Philharmonisches Orchester Erfurt in Germany, Krakow Philharmonic of Poland, North Czech Philharmonic, Jalisco Philharmonic and Orquesta Filarmonica Boca del Rio of Mexico, Orquesta Filarmonica de Bogota in Colombia among many others. In Canada, Sheng Cai was also invited to perform with the Vancouver Symphony for the lunar New Year Gala Concert and has performed with numerous regional orchestras in the US and Canada from coast to coast such as Kingston, Kamloops, Folsom Lake symphonies, Glacier symphony of Montana. He has recently worked with many conductors such as Keith Lockhart, Yoav Talmi, David Lockington, Robert Moody, Charles Olivieri-Munroe, Myron Michailidis, Donato Cabrera, Robert Franz, Dina Gilbert, Guoyong Zhang, Marco Parisotto and Eckart Preu.

In solo recitals, Sheng Cai has been heard in many prestigious venues in North America, such as Steinway Hall in New York, Jordan Hall in Boston, Chicago's international Music Center, the Cleveland Play House, the Modern Art Museum in Fort Worth, the Alys Stephens Center in Birmingham, CBC's Glenn Gould Studio in Toronto, and other distinguished venues in Stratford, Elora, Montreal and Winnipeg. In China, he inaugurated the Ningbo concert hall, giving both recitals and concerto performances. As a chamber musician, Sheng Cai has collaborated with a number of fine artists, including the Enso String Quartet. Many of his performances have been broadcast on across North America such as CBC Radio Canada and WCLV Radio station in USA.
‍